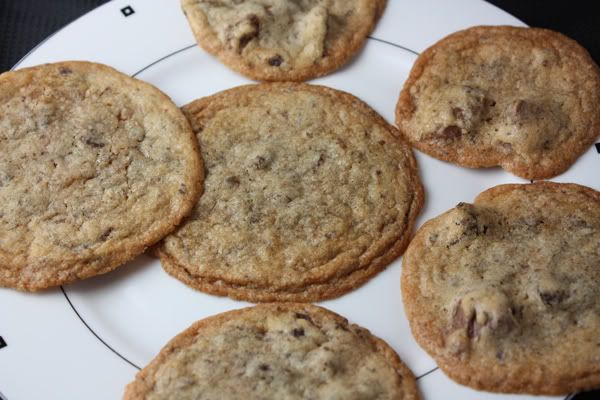 I know this is going to sound really pathetic, but here goes:
I can't bake
. The only things I can bake are cakes (thanks to Duncan Heinz) and pumpkin cookies (again, thanks to Duncan Heinz).  Oh yeah and I guess I can make artisan bread, too but it's always a toss up as to whether I'll burn it or take it out before its burned and have the inside be doughy. 
But the part that I don't get is:
Why do I keep trying?
Why do I do that? If I always make cookies that come out as hard, crunchy, flat frisbies then why do I keep trying to make cookies? And don't get me started on
Martha Stewart.
I think she posts baking recipes just to taunt me. I've tried I don't know how many of her creations and not one has turned out. NOT ONE. Martha, we're over! But what's that you say? She posted a carrot cake recipe? Really? I'll have to try that one...
Anyway, last week
my poor husband took pity on me
and my cookies. It probably helps that he is the son of the world's best baker (or is it bakeress?).  Dan tasted one of my flat crunchy cookies while he listened to me whine about how I'd followed the recipe exactly and bla bla bla and then said "Well, let's experiment with it and figure it out."
Under Dan's guiding hand I lowered the temperature, lessened the cooking time, and added more flour.
And it worked. Yesterday I tried it again by myself and
I actually made cookies fit for human consumption
. Then I ate them. Over a dozen of them. 
Now can someone tell me why my baby weight won't budge?